** Discounts On Cash Payments **
Relax, unwind, and heal.  Deep tissue massage applies pressure to several layers of muscle, tendons, and other tissues found deep within the skin. This type of massage can relieve pain and reduce muscle stiffness. Deep tissue massages are highly therapeutic.
Therapeutic massage doesn't need to be painful to work. If you're looking for relaxation, there's nothing better than a Swedish massage. This modality focuses on calming the body, reducing tension in the muscles, and increasing overall blood flow. This type of massage can even break down scar tissue.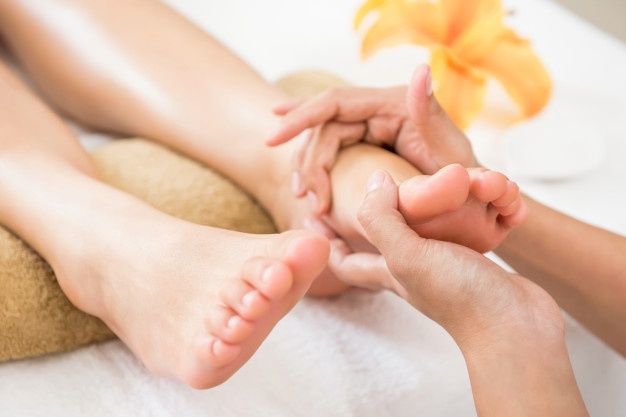 There are more than 7,000 nerve endings in each of your feet. And one-quarter of all the bones in the human body reside there. So it's a good idea to give them the attention they deserve. Foot reflexology massage combines elements of traditional Swedish and sports massages. It can be deeply relaxing, and beneficial for everyone – not just those suffering from foot or ankle pain.
How would you like to impress your date and get her/him a massage?
Start the date off with a relaxing massage putting all your tension and stress at ease. Make it the perfect date with a gift that really shows you care.
The hot stone massage is a variation of classic massage therapy. Heated smooth, flat stones are placed on key points on the body. The massage therapist will also hold the stones and use them to massage certain areas of the body
Lymphatic drainage is a technique designed to stimulate the flow of lymph, a fluid that transports white blood cells, oxygen, and nutrients to tissues throughout the body. Also referred to as "manual lymph drainage" or "lymphatic massage", lymphatic drainage typically involves gentle, circular movements.
Myofascial Release Massage
(MFR) – A highly interactive stretching technique that works with the patient's body to determine the direction, force, and duration of the stretch to facilitate maximum relaxation of the tight or restricted tissues.  MFR helps the patient to achieve the most efficient movement patterns that the patient's body can maintain with the least amount of effort.
Shiatsu massage helps release stress and relax the neck, shoulders, and back muscles. Using the hands, palms, and thumbs to massage certain points of your body. Pulsing or rhythmic pressure is used. This pressure feels more localized because unlike other types of massage, the finger pads are used to apply pressure for most of the treatment instead of the entire palm.
Exercise is beneficial for the body, but sometimes, we do too much! Continuous movement often leads to irritated tissues and contracted muscles that just won't move. These become your body's trigger points, and this type of massage can help. A trigger point massage is designed to relieve pain, reduce chronic injuries, and help muscles function properly.
Utilizing the principles of acupuncture but without the needling, this treatment facilitates healing by regulating the circulation of blood and qi (vital energy) which controls body functions and enhances resistance to disease. This treatment will assist with muscle recovery as well as restoring balance to your energy meridians.
There's nothing more sacred than a quiet massage.  We take great care in ensuring our therapists are not only highly skilled, but willing to go the extra mile to satisfy our customers needs.  Our patrons in the Setauket area have come to know us for our unmatched service quality and friendly staff.   
What Our Customers Say About Us
"This place is great! Jessica is so skilled and informed. She's a true professional. Highly recommend her and this business."
"Jessica and her staff are phenomenal; skilled and knowledgeable.The massage is at the perfect level to break up the spasm but won't leave you sore for days to come. I highly recommend this place."
"This is a brand-new, spotlessly clean facility that offers Chinese style massage. I have been here a number of times and every attendant has been professional and highly skilled."